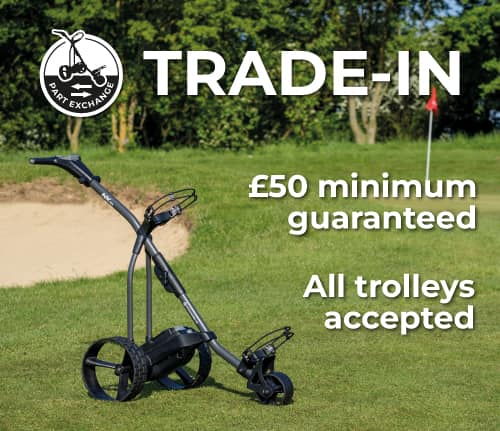 Trade In
All trolleys accepted regardless or brand, age or condition.
A minimum of £50.00 is guaranteed and we collect your old trolley free of charge.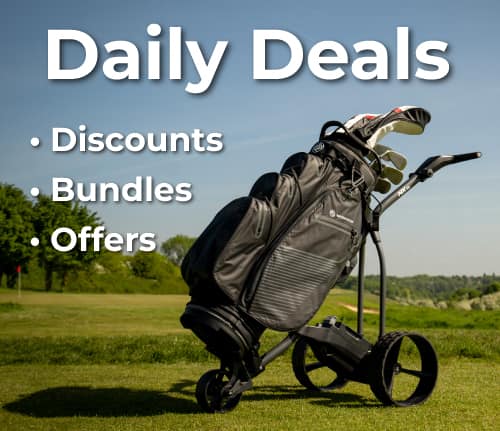 Daily Offers
Looking for a new trolley but don't have an existing one to trade in?
Great deals are available all year round, including special bundle offers.
At PowerBug, we have invested considerable effort into curating a range of electric golf trolleys that cater to various needs and preferences. Our trolleys are designed with a perfect blend of cutting-edge technology, performance, and affordability. We understand that golfers seek high-quality equipment without breaking the bank, and that's precisely what our range addresses. Whether you're a seasoned golfer or a beginner, our trolleys offer exceptional value for money without compromising on quality.

We believe in the highest level of reliability. Each trolley is crafted with precision, using durable materials and tested under rigorous conditions to ensure they withstand the demands of the golf course. You can trust that your PowerBug trolley will be a reliable companion on the course, helping you focus on your game without any worries.
To make our golf trolleys even more accessible to golfers, we regularly offer exclusive daily special offers and discounts. These limited-time promotions provide fantastic opportunities to own a PowerBug trolley at an even more attractive price. Keep an eye on our website or subscribe to our newsletter to stay updated on these exciting deals, as they can save you significant amounts while getting the top-quality trolley you desire.

At PowerBug, we understand that many golfers may already have a trolley they wish to upgrade. To make the transition smoother and more cost-effective, we offer a part exchange program. You can trade in in your old trolley and receive a minimum of £50 regardless of its age, type or condition.
This not only provides a convenient way to upgrade but also ensures your old trolley is responsibly recycled or refurbished.